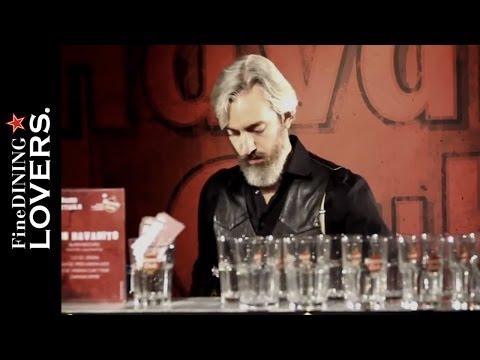 I spent 14 years living in LIC/Astoria beginning in 1995.  My folks had sold the house I grew up in and fled, like so many other New Yorkers, to Florida's Gold Coast.  It became, and still feels like, my home.  For two or three decades now, Astoria has been overun by Eurotrash cafes, where everyone is rolling deep in Benzes, BMWs and Range Rovers, incessantly smoking Marlboro Reds, and indulging in a massive overuse of hair product and Drakkar Noir.  Among them, there is an unnatural obsession with image and name brand recognition.  At the dime-a-dozen sidewalk cafes, you can often see a table of clowns sipping espresso in the morning, only to return from work in the evening, and see the same ones guzzling crap-ass Heinekens.  The M.O. there is to collect rent money from suckers – no one actually holds down a real job.
For a long, long time, nightlife there consisted of nothing else but a sea of Ed Hardy-sporting Greeks, Croats, Serbs and the odd Albanian, all fist pumping to obscure, crappy, repetitive house jams.  Few of them have any desire to intermingle. Thrown in for good measure, were a handful of trashy, old-man, Irish pubs – none that you would dare venture into – remnants of another time.
I'm an equal opportunity hater.  Actually, I haz love for everybody and honestly, don't dislike those people. I just don't want to hang around those places where I'm made to feel not wanted.  I can't stand one particular culture dominating everything and anything, leaving few options, and making everyone else feel excluded.  I choose to hang out elsewhere.
Bordering Astoria on the South, just across the biggest oil spill in the history of mankind Newtown Creek from Greenpoint, sits Long Island City. LIC was very well known for harboring a whole bunch of really old warehouses where cheap hookers would roam free.  Silvercup Studios, Water's Edge, and The Museum of the Moving Image were just about the only decent attractions aside from the paid sex.  Today, there's a high-rise, commercial waterfront boom, that started with City Lights 12 or so years ago.  Since the Giuliani crackdown, the hookers don't walk the streets as much anymore but rather, stick to brothels and the occasional mobile truck – fer realz.
Luckily, the last 10 – 15 years has brought a tidal wave of hipsterdom to the area around Jackson Ave and Van Dam Streets, as waves of super-cool rolled over the McGuinness Humboldt bridge. "Urbanification," gentrification, landmark coop conversions, real estate squeeze plays, rising rents and the corresponding explosion of eateries and drinking establishments are the new black in this area.  A few bars, of course, stand head and shoulders above the rest in my book.  Of those, you have Café Henri – my favorite undiscovered brunch spot and Dutch Kills – a stunning example of a throwback speakeasy.
Dutch Kills was opened by some seriously OCD, folkish bar heros, with a penchant for all the old school, proper, way of imbibing – folks formerly of Milk & Honey, Please Don't Tell, and Little Branch.  The owners are: Sasha Petraske, Rich Boccato.  Many of the barkeeps orginally hail from those fine establishments as well.
If you're in the area, you owe it to yourself to stop by.  You won't be disappointed.
Share and Enjoy